During December of 2020 Espacio Arroelo had the chance to develop a P2P experience with  Zip House in Moldova. The objective of these exchanges are to share knowledge, ideas and moments to build new alliances between creative hubs in Europe. Even though both hubs had to adapt the agenda to the Covid restrictions, they managed to overcome every issue taking the exchange in an online format! Though the exchange, they managed to create new bonds with other stakeholders of each of their regions and further collaborate in new programmes. After this exchange, members of Zip House had direct contact with Espacio Arroelo's alliance Belen Mendoza from Chamber of Commerce of Santiago to be part as hosts and entrepreneurs of the Erasmus for Young Entrepreneurs programme.
Session 1. Discovering the hubs
During this session the participants shared more in depth what are the visions, goals and values of our creative hubs with Carolina Tulgara (executive director of ZIPHOUSE); África Rodríguez (co- founder of Espacio Arroelo) and Ana del Valle (President of Ticket2europe).
Session 2. Expectations and needs.
Analysing the needs of their communities in order to create new bonds between the hubs and getting acquainted with members of each community, the participants came to a clear conclusion: How necessary it is to be in contact and help each other.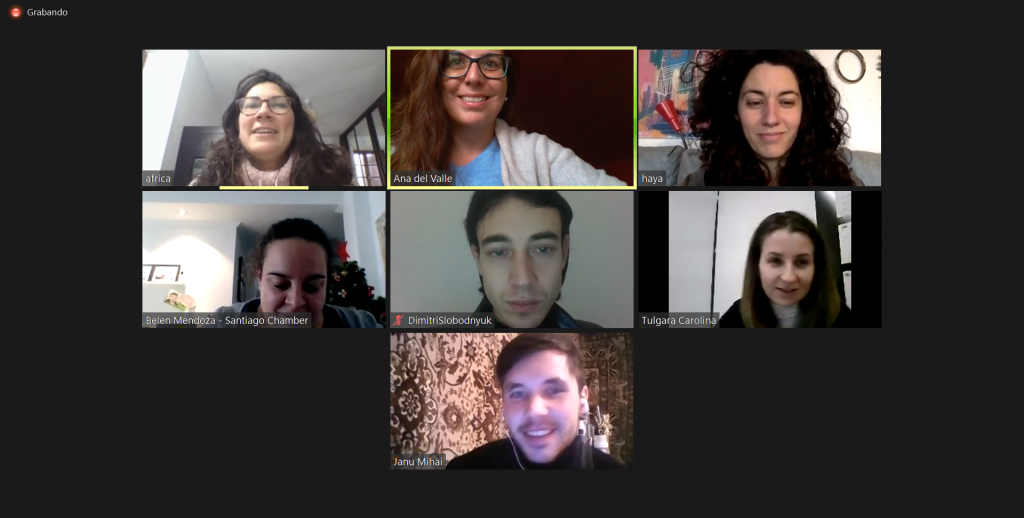 Session 3. Reformulating the final event.
After discovering points in common the participants decided to identify the main elements and started brainstorming about the content of the final event.
Session 4. New collaborations between Espacio Arroelo and Zip House.
New ideas between the hubs were born by developing an original proposal and applying for Hyper Global / Hyper Local, an open call by MakersXchange, in order to continue their already fruitful collaboration!
From Espacio Arroelo community, Ignacio Márquez,  explained  Noites Abertas, the project he manages in our Pontevedra, Spain. In addition, Haya Blanco region explained her professional career in arts and cultural field. From Zip House, Svetlana Dimitrioglo, light industry manager at Moldova Competitiveness Project founded by USAID, explained the relevance of Zip House impact during the last years and the importance of creating new international bonds between creative hubs. Mihai Janu shared their history as clothes designer and Dimitri Slobodnyuk, as the director of a model agency.
Session 5. "Building opportunities through the European Creative Hubs Network"
The two hubs organised a 2-hour public event focusing on the mutual experiences between Espacio Arroelo and Zip House as members of ECHN, sharing information about  Erasmus for Young Entrepreneurs and i-Portunus. The session closed focusing on the topic of on how to stimulate active citizenship between youth, followed by a presentation of success stories from Zip House's community.
Follow the link to get a detailed view on how the project evolved!
Peer2Peer with Zip House in Moldova